2023 AM950 Calendar and Poster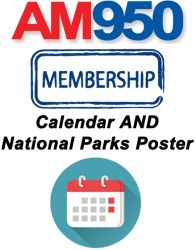 Thanks to everyone who became a member of AM950 over the past three years! Your support has allowed us to remain one of the few progressive talk radio stations in the country. And as our way to say "thanks," we have not one, but TWO end of year gifts.
The first is the official 2023 AM950 calendar. It features photos Matt McNeil took on his nature hikes plus important dates in both progressive and AM950 history. Members that sign up for a 1 time $50 membership or re-occurring Monthly membership of $10 will receive a 2023 AM950 calendar.
And NEW this year, members that sign up for a 1 time $99.50 membership or a re-occurring $25 will receive an AM950 calendar AND an AM950 National Parks Poster. This poster features incredible photos that Matt McNeil took throughout the year visiting National Parks.
***Order your calendar and poster here***
If you have any questions or concerns please email members@am950radio.com or call 952-946-8885. And thanks for continuing to support AM950 and independent progressive media!
*Please note that donations are not tax deductible*