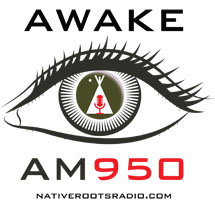 Native Roots Radio Network
Saturdays  1PM-3PM
Our weekly Native American talk radio show will discuss national and local Native American news and events.
Local and national guest will help us keep current with Mother Earth, Tribal and Twin Cities issues.
Native American Issues are human Issues. We invite all people to walk hand in hand with our struggles, victories and achievements.
We need to all become AWAKE.
I'm Awake is on AM950 on Saturdays @ 1:00pm and replayed the following Saturday at 7:00am.
Subscribe to
Native Roots Radio Network - AM950 The Progressive Voice of Minnesota
Or subscribe with your favorite app by using the address below
Winona LaDuke of Honor the Earth and Andy Pearson of MN350 join Robert and Nancy to discuss the final approval of Line 3.
Podcast: Play in new window | Download
Subscribe: RSS