St. Paul Art Collective Art Month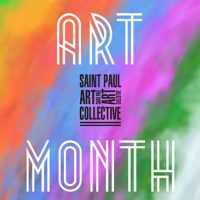 October is Art Month!
Art connects and heals, lifts us up and inspires us to see the beauty in every day. Let us bring that inspiration to you!
Join us all month long during October in celebrating the diversity of art and artists in St. Paul.
Art lovers look forward to finding new works for sale, learning about artists and their processes in virtual studio tours and celebrating the collective spirit. We've packed the coming month with opportunities for you to see, learn and acquire works from local artists, participate in a live auction and connect directly with exhibits online.
Learn more about all the great events coming up at StPaulArtCollective.org