Golden Valley Pride on June 10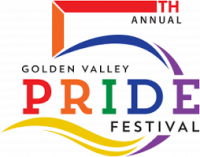 One of the BEST things about living in Golden Valley is that it celebrates the LGBTQ community.  Did you know that Golden Valley has more L G B T Q households per capita than any city in Minnesota?  Did you also know that the Golden Valley Pride Festival was the FIRST suburban pride festival in Minnesota?
On Saturday, June 10th, come to Brookview Park in Golden Valley for the Golden Valley Pride Festival from noon-6PM and celebrate the 5th Anniversary!  The Festival highlights our LGBTQ families, their friends and allies in the spirit of promoting greater understanding of Golden Valley's rich and growing diversity.
The event will feature two stages with live performances all day, food trucks and food vendors, a kids area with games, a beer wine and cider tent as well as more than seventy community, business and sponsor tents and exhibitors!  There will also be kickball and volleyball games!  Find more info at GoldenValleyPride.com.
Date: Saturday, June 10th
Time: Noon-6 PM
Location: Brookview Park in Golden Valley (200 Brookview Pkwy N)
More info: GoldenValleyPride.com