Bill Maher at Mystic Lake May 21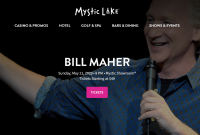 Order your tickets here to see Bill Maher at Mystic Lake on Sunday, May 21 at 8 PM!
For more than 25 years, Bill Maher has set the boundaries of where funny, political talk can go on American television. First on "Politically Incorrect" and for the last 19 years on HBO's "Real Time," Maher's combination of unflinching honesty and big laughs have garnered him 41 Emmy nominations. Maher's television show has featured guests such as Barack Obama, Joseph Biden, Bernie Sanders, Elizabeth Warren, Pete Buttigieg, Howard Stern and Barbra Streisand. He has written five bestsellers and his podcast, "Club Random with Bill Maher," hit No. 1 on Apple Podcasts within a week of launching. Maher started his career as a stand-up comedian in 1979 and still performs at least 50 dates a year in Las Vegas and in sold-out theaters across the country.