AM950's New On-Air Schedule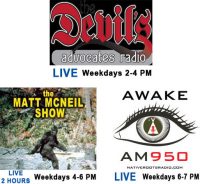 We have big news coming your way from AM 950 in 2021! Starting on Monday, January 4th, we're changing our schedule and adding more live programming!
The mornings stay the same, with Santita Jackson and the morning drive at 6 AM, Stephanie Miller at 8 AM and Thom Hartmann at 11 AM.
Beginning January 4th Dom and Crute with The Devil's Advocates Radio show take over our airwaves live, every weekday afternoon from 2-4 PM.
Then from 4-6 PM it's the newly expanded Matt McNeil show! It's the same Matt McNeil show you've come to love, with now twice as many rants, more interviews and even more goofiness! Plus Brett Johnson and Jeff Stein will make regular visits on Matt's show.
The wildly popular Native Roots Radio with Robert Pilot gets their own regular time slot too, weeknights from 6-7 PM!
The Bradcast stays at 7 PM, the Rick Ungar Show will now be on 8 to 10 PM, and Randi Rhodes will be on air from 10 PM to midnight! And fans of Ellie 2.0 Radio can now catch her show Saturday mornings at 10 AM and Sundays at 1 PM! Listen live, on a podcast, or ask your smart device to play AM 950 KTNF!
New AM950 Weekday Schedule Starting Mon., Jan. 4
5-6 AM: Democracy Now
6-8 AM: Santita Jackson
8-11 AM: Stephanie Miller
11 AM-2 PM: Thom Hartmann
2-4 PM: Devil's Advocates Radio (LIVE)
4-6 PM: Matt McNeil Show
6-7 PM: Native Roots Radio
7-8 PM: Bradcast
8-10 PM: Rick Ungar
10 PM-Midnight: Randi Rhodes