AM950 Super Tuesday Party and Broadcast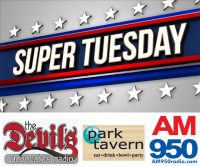 If you missed out on this year's Blue State Ball, AM950 and the Devils Advocates Radio Show (heard overnights on AM950) would like to invite you to come watch our Super Tuesday radio broadcast at the Park Tavern in St. Louis Park! The Devils Advocates hosts along with AM950 hosts Matt McNeil and Brett Johnson will be covering all the results in real time. We will be set up in the 11th frame bar on Tuesday, March 3rd beginning at 7 PM and everyone is welcome. This is a free event with no tickets needed. You can order food off the menu during the broadcast or come early for dinner before the show starts.  There will also be a cash bar open all night.

When: Tue., Mar. 3 at 7 PM
Where: The Park Tavern at 3401 Louisiana Ave S St Louis Park, MN 55426. We will be in the 11th frame bar.