Get an Official AM950 Calendar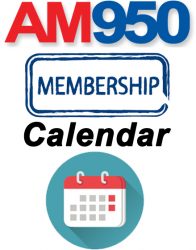 ***Good news for anyone who purchased a calendar as we have just mailed them out!***
Everyone at AM950 wants to say thank you to all those who become members through our membership program. One thing the pandemic has taught us is small independent media is such an important element of our community, and as some independent media outlets have shuttered, you members have helped ensure AM950 will stay on the air into 2021. And right now we have a great offer for new members:
Become a new member with either a $25 one time donation or a $10 recurring donation and Matt McNeil will read a special message from you on the air. Please note messages must be no more than two sentences and are subject to AM950 approval.
For new members who do a monthly $25 donation or a brand new one-time $50 donation we'll mail you an AM950 calendar for 2021. Our calendar will feature important dates in both AM950 and progressive political history. It also will feature some great photos Matt McNeil took throughout the year on his nature hikes.
Just make your brand new recurring or one-time donation below! If you have any questions or concerns please email members@am950radio.com or call 952-946-8885. And thanks for continuing to support AM950 and independent progressive media!
*Please note that donations are not tax deductible*
Yes, I would like to support AM950 >>