AM950 Debate Watch Party – Tue. Sep. 29 at Crooners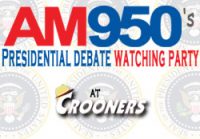 Order your tickets here.
Joe Biden debates Donald Trump coming up on Tuesday September 29. And you have a chance to watch it with us and other AM950 listeners at Crooners Supper Club. Crooners has an outdoor stage with a large TV screen and great sound. They've been doing socially distanced concerts all summer and work hard to make sure everyone is safe. Doors open at 7:30 with the debate beginning at 8. And come early for dinner at Crooners and stay for the debate watching party. Tickets are $25 and include one complimentary drink and one seat at a 2 person socially distanced table. Space is very limited because of safety and when tickets are gone there will not be more available. Tickets are presale only. Order your tickets here.
When: Tuesday, September 29.
Time: Doors 7:30 with the debate at 8:00
Where: Crooners Supper Club: 6161 Hwy 65 NE, Minneapolis, MN 55432
Cost: $25/ticket
Tickets: Order here