All My Relations Arts Presents Rosy Simas Danse's "she who lives on the road to war"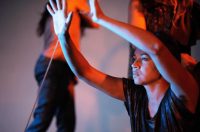 The Native American Community Development Institute (NACDI) and All My Relations Arts are pleased to premiere Rosy Simas Danse's she who lives on the road to war, an immersive installation and performance on global loss, grief and community healing. The project includes a new installation and in-gallery performances throughout the fall of 2022.
she who lives on the road to war is an immersive installation and dance performance created by
Rosy Simas in response to global loss and the collective need to come together in peace and
reconciliation. It is both a physical space for rest and refuge, and a performative work of Native
futurities that imagines a world of relational balance with nature and with each other.
This new work takes its title from the Haudenosaunee historical figure Jigonhsasee, who
encouraged war between tribes before becoming an instrument of peace. Jigonhsasee's wisdom
and vision helped Hiawatha and the Peacemaker bring the Nations together as the
Haudenosaunee Confederacy.
Find performance dates, locations and more info at: https://allmyrelationsarts.com/